Mayonnaise with real egg yolks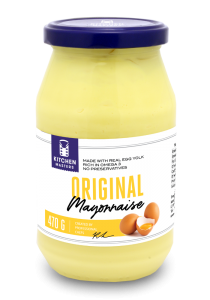 The new product – Original mayonnaise
We put a lot of time, expertise and love into the recipes we create to ensure high quality, delicious products reach your table. We want to share with you an exclusive Kitchen Masters new product created by the best food experts and enthusiasts.
We present to you our Original mayonnaise. Which is made like professional chefs do in their kitchen! Each jar is created by mixing high quality oil with real egg yolks. We use citric acid and mustard to flavour everything and give it an unforgettable taste.
With Kitchen Masters Original Mayonnaise, each of your dishes will be unforgettable, with a truly professional taste!