Novelty – roasted eggplant spread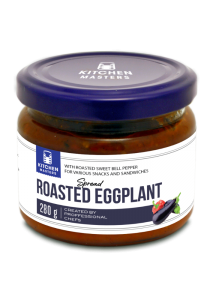 Roasted eggplant spread
We believe that taste is the most important thing so we always experiment and strive for the best results. We look forward to sharing with you the freshest new product our food professionals have just created.
It is a spread with a luxurious, rich flavour – roasted eggplant and roasted red peppers. This spread is perfect for your sandwiches, breakfast toast or snacks.
We are sure that you will love this product and you will receive no end of compliments. Use the inspirations of our recipes and boldly improvise. Feel like a real chef in your kitchen with Kitchen Masters.